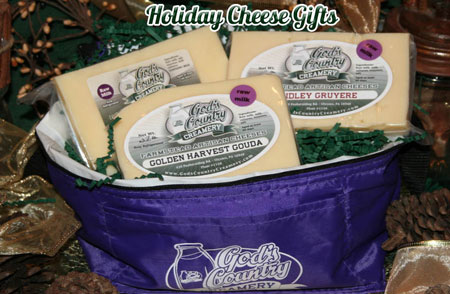 Holiday / Everyday Cheese Gift Packs
Due to Covid-19 and the delayed postal system, we unfortunately are only shipping to Pennsylvania and neighboring states for the shipping price listed. If you have any questions, please contact us!
The Worker Bee - $25
Greatfor Teacher, Mailperson, Hairstylist, Secret Santa
(Three cheeses - Over one pound)
The Go-To - $40
BEST SELLER: Perfect for ANYONE onyour gift list
(Six cheeses - approx. Two pounds)
The Entertainer - $55
Fantastic for Spouses, In-Laws,Parties, Tailgates, the Big Kahuna!
(Nine cheeses - approx. Three pounds)
(Each gift option is shipped in a reusable, insulated lunch cooler featuring our creamery logo) Please send us a message with your favorite varieties to include, if you have a preference.
Large Cheese Tray Kit - $45

Five varieties of cheese (Comment the varieties you would like when you place the order.)
Eight beef sticks
Box of crackers
Serves 30-40 people












Small Cheese Tray Kit
- $30
Three varieties of cheese (Comment the varieties you would like when you place the order.)
Four beef sticks
Box of crackers
Serves 15-20 people
(All selections available in the above pull-down menu.)