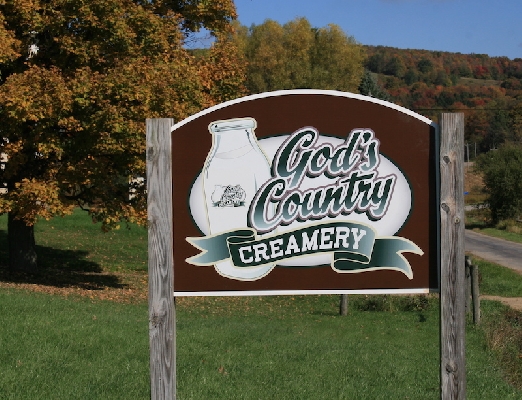 Visit Us / Directions
God's Country Creamery offers a self-serve on-farm product center that is open Monday through Saturday. Tours and tastings are by appointment only so please contact us before stopping by.  In the summer, the milking herd can be seen grazing the hillsides surrounding the farm.  Baby calves live in hutches around the farmstead.  Proper and safe food processing limits creamery tours, but we do offer an observation window.
Just over the hill from the creamery lies the quaint little town of Ulysses.  In town you can visit:
The Corner Cafe.  Get a homemade bite to eat and learn about the history of the railroad.
Kountry Market.  Experience a rural grocery with old-fashioned wood floors.
The Old Bank Store and the Ulysses Mercantile. Browse through antiques and country decor.
The Carpenter's Shop.  Discover beautiful custom wood working.
Fine shops in the Amish community feature bulk goods, handmade Amish dolls, Bent-wood rockers, leather works, and wooden picnic benches.
Besides God's Country Creamery the Ulysses area hosts many other fine food producers. These include:
Hamilton's Maple Farm.  Award-winning maple products.
Genesee Natural Foods.  Wide selection of those 'hard-to-find' natural foods
The Berry Patch.  All-natural blueberry patch open most of July and August.
Barnett's Potato Farm.
Before you leave the Ulysses area, you'll want to partake in the rest of quality attractions. Ski Denton Family Resort provides you with downhill skiing, crossing country skiing, snowboarding, and snow tubing during the winter and beautiful bike trails during the summer. Penn-York Camp and Retreat Center provides an excellent setting for conferences and retreats. Explore a bit of Potter County history at the Pennsylvania Lumber Museum.
While in God's Country, be sure to take in the natural beauty of the area. Travel down to Cherry Springs  to enjoy remarkable stargazing.  Because of the parks extremely dark skies, gazers will enjoy some of the best star viewing on the eastern seacoast.  Located only forty-five minutes from the creamery is the Pennsylvania Grand Canyon. The park offers gorgeous hiking trails through the most breath-taking views of the Pennsylvania Allegheny mountains just a short gaunt into Tioga County.
---
God's Country Creamery
439 Pushersiding Road, Ulysses, PA 16948
GPS: 41.8959553,-77.8022096
From U.S. Rt. 6 ...From Galeton area take Rt. 6 West and turn right onto PA Rt. 449.  From Coudersport area, take Rt. 6 east and turn left onto Rt. 449.  The turn at Rt. 449 will be at the Black Forest Trading Post about half-way between Coudersport and Galeton.  Continue to the blinker light in Gold and turn right onto PA Rt. 49 
From PA Rt. 49 ...At. the blinker light in Gold take Rt. 49 east 1 1/2 miles.  Look for the directional sign "West Bingham 5 miles",  and turn left onto Pushersiding Road.  Continue one mile and the Creamery is on the left.  You will see our long red barn and large tan house.
From Ulysses, continue about 2 1/2 miles west on Rt. 49 and turn right onto Pushersiding Road (first paved, right hand turn outside of Ulysses).  You will see our long red barn and large tan house.
From Genesse, take Rt. 449 south to the blinker light in Gold.  Turn left onto Rt. 49 east.